Skip to main content
Address
301 2nd Ave NE
Buffalo, MN 55313
United States
KidKare
KidKare is a school based child care program located at five of our BHM Elementary Schools. We are open 6 am - 6:30 pm, Monday - Friday and on most non-school days.
KidKare School Age Care
Extends your child's learning day while providing high quality care in a safe and fun environment. We offer flexible scheduling with before and after school care, non-school day care, and summer care. Our exceptional staff provide a variety of indoor and outdoor activities for your child to enjoy!
KidKare KinderKids
Is our full day care program for children ages 3 - 5 not yet in school. Our staff teach theme based activities that include social and emotional skills, academic readiness, art and science, and learning through play. We offer flexible scheduling with 1/2 day care, full day care, and care that wraps around your child's ECFE class!
Summer KidKare and Summer SunBlock 2021
Summer care is available in Buffalo, Hanover and Montrose starting Wednesday, June 16. Our amazingly creative staff keep your child entertained all summer long with a variety of activities that include outdoor play, gym games, arts and crafts, science, and more! 
All KidKare children in grades 2 - 7 will participate in BHM Community Education's Summer SunBlock Enrichment Program. Summer SunBlock is a 6-week program where children get to choose three classes offered Monday through Thursday, 8:30 - 11:30 am. Classes change every 2 weeks! Look for class descriptions in the Community Education Summer Catalog or online registration at bhmschools.ce.eleyo.com..
Session 1: June 21 - July 1
Session 2: July 6 - July 15 (No class July 5) 
Session 3: July 19 - July 30
Northwinds, Tatanka, and Parkside KidKare sites will start the summer combined as one Buffalo KidKare site from June 16 - July 29, housed at the Buffalo Community Middle School. The Buffalo sites will be closed July 30 for a moving day, then all 3 sites; Northwinds, Parkside and Tatanka will open for the remainder of our summer program, August 1 - August 26.
Buffalo families: be sure to register for the Buffalo site for June and July care and your child's attending elementary site for August care. Your child will have two contracts and two different sites. (ex: Buffalo and Northwinds, Buffalo and Parkside, Buffalo and Tatanka) 
 
Please call to ask about registration for our summer 2021 program. 763-682-8787
School year 2021-2022 registration will open July 13, 2021
UPDATE  YOUR CHILD'S CURRENT CONTRACT AND ATTENDANCE
Check us out on Facebook  BHM Schools KidKare
Contact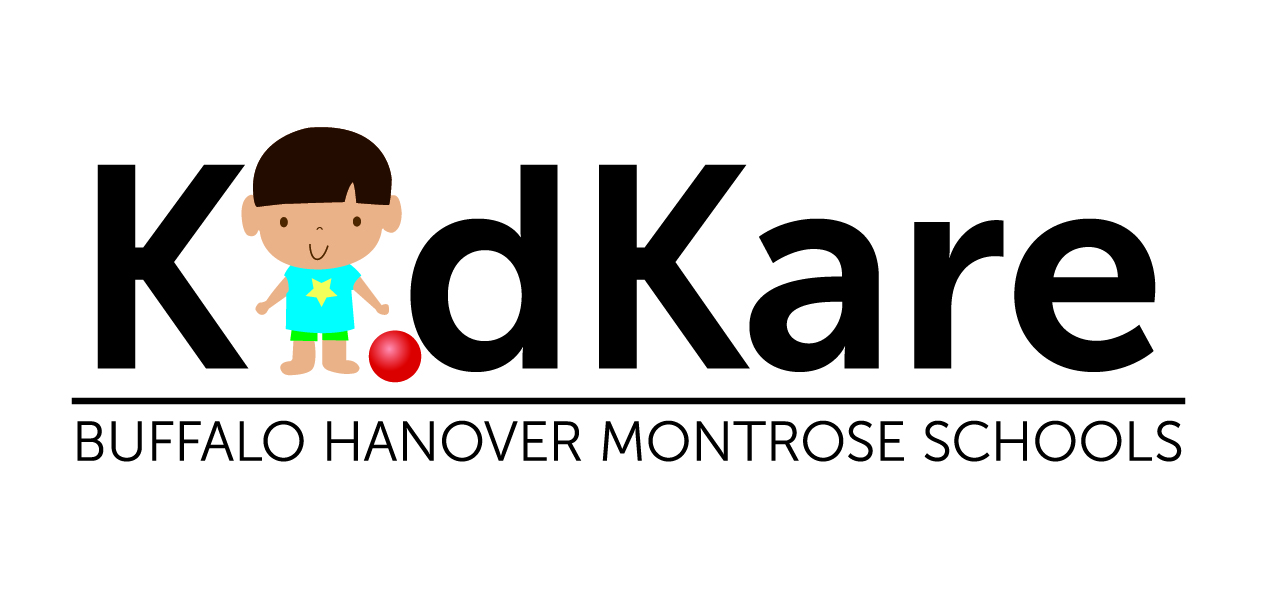 Phone
763.682.8787
Coordinator
Tiffany Lund
KidKare Sites
Hanover:  763.682.0873
Montrose:  763.682.8360
Northwinds:  763.682.8830
Parkside:  763.682.8746
Tatanka:  763.682.8631