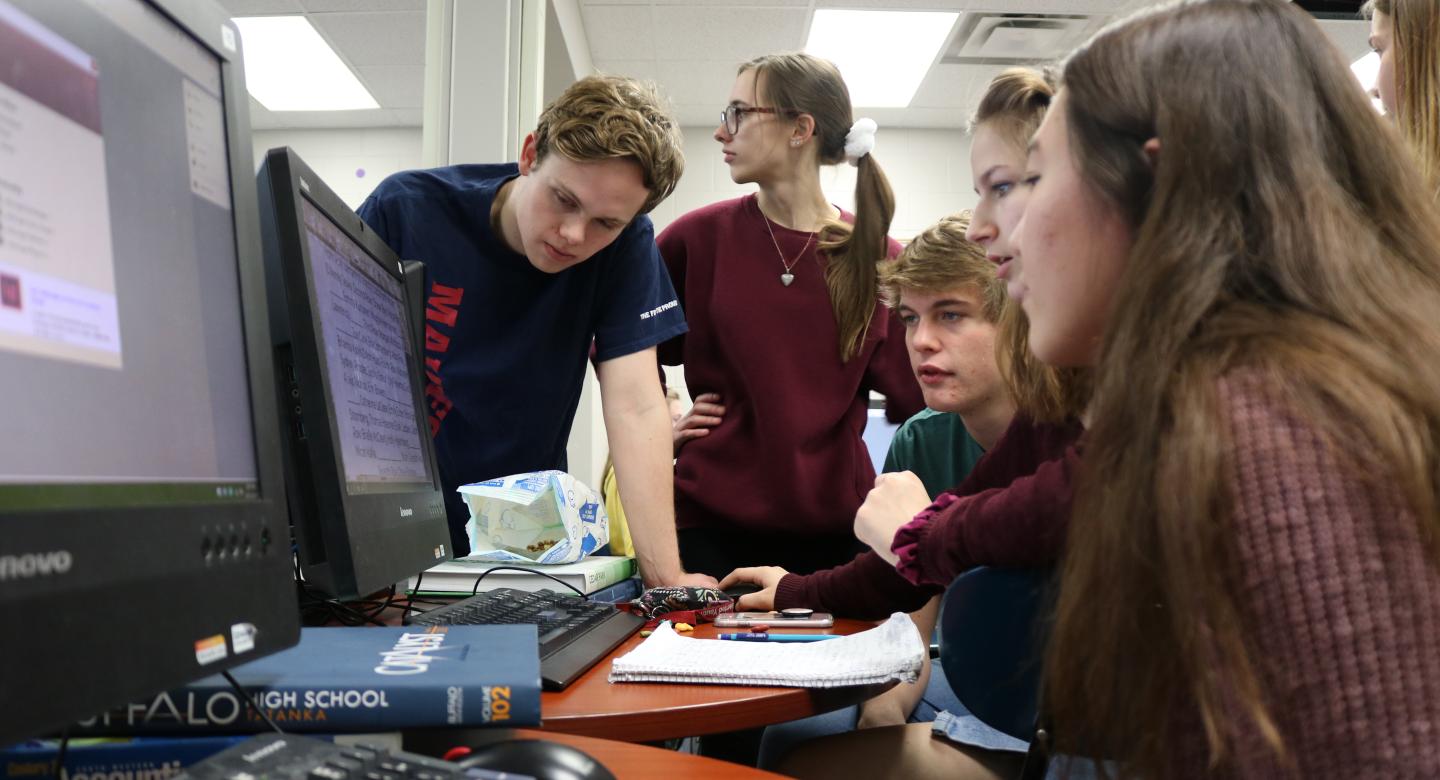 Buffalo High School
Doing what's best for kids!
BUFFALO HIGH SCHOOL is one of the state's most outstanding schools, with 1,950 students in grades 9-12 who outpace state averages in every way. The school's continuous approach to plan, work and reflect results in an atmosphere of innovation and inspiration. Students learn early that the motto to "be nice, be proud, work hard, and model behavior" is genuinely ingrained in all the school has to offer. As the only school in the state offering the Minnesota Transfer Curriculum, BHS is advancing students' ability to earn college credits without sacrificing the high school experience.
BHS Distance Learning Details
Communication highlights and full text. Updates will posted as they become available. Distance Learning to begin Monday, April 6. 
 
Video message recorded on 3/27 from Mr. Mischke
In short: We miss you! 
Below are highlights from the email sent to all students and parents/guardians on 3/26/20.  See the corresponding link below for the full text.
Student schedules for Term 4 are now available.
Students will need to get in the habit of checking their email and logging in to Google Classrooms for daily interaction with their teachers.
Teachers will be reaching out to their students with class specific information this week. If you should have any questions for teachers, please email them directly.
Updates regarding key events scheduled for Spring, including but not limited to Prom, Academic Excellence, Yearbooks, NYC music trip refunds, summer school and graduation, will be provided as soon as decisions are made.
Email to all BHS and PLC students and parents/guardians of BHS and PLC students
Below are highlights from the emails sent to all students and parents/guardians on 3/23/20. See the corresponding links below for the full text.
For our senior students: 
Upon the completion of 3rd term, seniors who have met the minimum number of credits to graduate and have met all required credit categories will graduate early from BHS and not be enrolled in Term 4 courses.
Partial schedules will be created for seniors to meet the minimum number of credits necessary for graduation.  For example, if a senior only needs one half-credit to graduate, they will only be scheduled for one course during Term 4. 
Seniors who are enrolled in a two-term College in the Schools course this spring and have enrolled to earn the college credit will be asked to complete those classes.  
Seniors enrolled in a one-term CIS course during Term 4 will have the option to stay enrolled in that class if it is still offered, even if they do not need the course for graduation. 
General information for all students: 
Grades for Term 3 have been finalized. The portal, which includes schedules for Term 4, will re-open during the week of March 30. At that time, you'll have access to your term 3 grades.
Until further notice, the BHS office is closed to the public. If you need to reach someone in the office, we encourage you to use our 'Contact Us' page versus leaving a voicemail, as much of our staff is working remotely.
If you still need to pick up medications from the health office, please email our school nurse, Karen Schultz (kschultz@bhmschools.org), to schedule a pick up time.
Email to 9-11th grade students and parents/guardians of 9-11th grade students
Buffalo High School Events
Banner Photo by Kiaunna Kirkendall (2020)