Skip to main content
February 10, 2023
Kelm nominated for MN Teacher of the Year
Two BHM teachers, Jenny Boldt and Danielle Kelm, receive nominations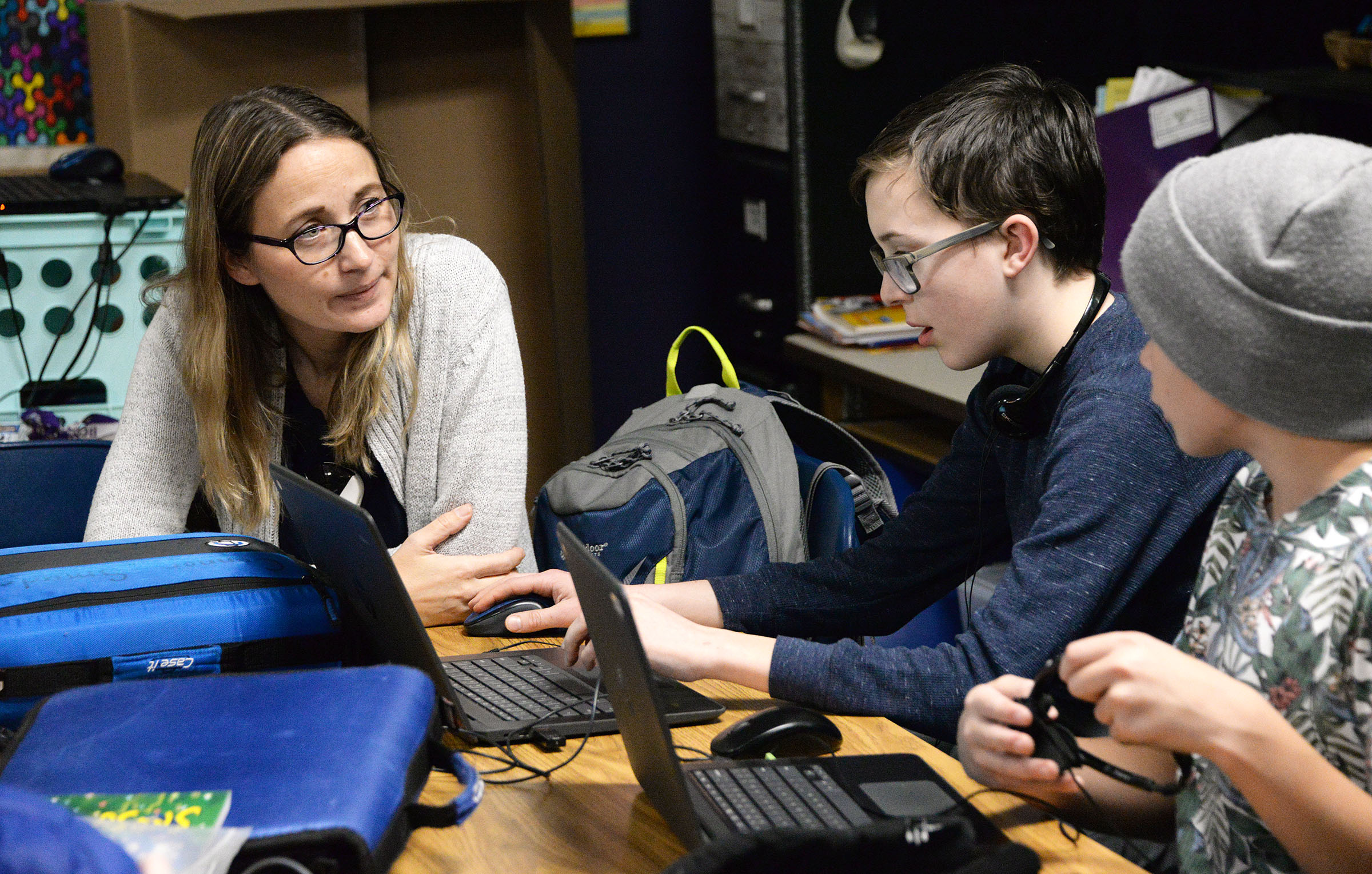 When searching for a classroom that could challenge her own children beyond the advanced programming offered by their home district, Danielle Kelm found what she was looking for in Buffalo-Hanover-Montrose Schools.
She also found a new professional destination, and in her third year of teaching English and Quest students at Buffalo Community Middle School has been nominated for 2023 Minnesota Teacher of the Year.
"Buffalo does a really beautiful job of teaching every kid, and that hasn't always been my experience. So after finding a spot that could see and serve my own children's needs, I knew I needed to be a part of that," Kelm said.
Kelm was nominated by a former BHM co-worker, who recognized her extra effort to connect with her students, to create a safe learning environment and to challenge them. The nomination also noted her skill in incorporating social and emotional support with classroom lessons, and her her willingness to prepare resources for her students on her own time.
"She is a great advocate for all of her students, ensuring they receive appropriate levels of education," the nomination concluded.
Looking back at the challenging pandemic years, which coincided with leaving her longtime teaching home in St. Michael-Albertville, Kelm said the nomination is deeply appreciated.
"To have somebody recognize that what I'm doing stands out in any way – because we're all working hard – is a huge, huge honor," said Kelm. "I'm so humbled by it and grateful for it. It's a really neat thing."
Two BHM nominees
There are 131 nominees for the award statewide. That group includes public and private PreK-12 teachers, as well as early childhood family education and adult basic education instructors. A panel of evaluators from various fields will review the nominations, select semifinalists, and eventually name a winner on May 7.
While nomination is a rare honor, Kelm is actually one of two BHM staff members who are up for the Teacher of the Year title. The second is Jenny Boldt, a fourth-grade teacher at Hanover Elementary School, who is featured in this story.
"To have two nominees from our district is really cool, and to have a secondary and an elementary representative, that makes my heart happy," said Kelm.
Inspired to teach
A native of St. Joseph, Kelm graduated from St. Cloud's Apollo High School before attending the University of Wisconsin-Eau Claire and St. Cloud State University. She had known from seventh grade on that she wanted to become a teacher.
"I saw my seventh-grade language arts teacher stand up on a desk and proclaim something and I thought, 'That – I want to do that when I grow up,'" she said.
Several more outstanding teachers throughout high school confirmed that inclination.
"That's why I am in the classroom today. They were relationship-first teachers. They made you feel like somebody. Even if you were the quiet, shy voice in the room, they still saw you and recognized you and engaged with you," Kelm said. "So between that and my love of all things books, here I am."
Though she had originally intended to teach high schoolers, Kelm soon found her calling in the middle school realm.
"Seventh grade was my first placement, and they were my people right out of the gate," she said. "They were quirky and wonderful. It felt right. The high school I enjoy, but middle schoolers are my specialty."
Joining BCMS
Kelm started her teaching career at STMA and put down roots over 17 years, but the lack of suitable advanced courses for her own children eventually led her to open enroll them into BHM's Quest Program. By the time her third child was in the BHM schools, she was willing to forgo the tenure she held in STMA to support her family's district of choice.
The onset of COVID-19, hybrid learning, and all the other challenges associated with education in 2020 made her first year tremendously difficult, but Kelm hasn't regretted the decision.
"It was a crazy time to jump ship and try something different, but it's been such a good fit to be in a district that supports the same things that I believe and know are important for kids," she said. "I've got that building-level support and that district-level support. That's part of why I'm here."
A passion for the job
Kelm embraces the unique elements of working in schools as an adult, including the rhythms of the school year calendar, the camaraderie with fellow staff members and, above all, engaging with students.
"The kids, their energy and enthusiasm, just never cease to fill me up. It's a lot of fun," she said.
She aims to be a relationship-first teacher, like those she so admired as a student herself, and has enjoyed teaching all three grade levels at BCMS, including a mix of regular English and Quest courses.
"The Quest students are some of the most challenging kids I teach, but you also get that big reward too, because you'll come across an 11- or 12-year-old who is thinking really deep thoughts," she said.
Overall, while there have been many changes in education since the pandemic, the students provide a constant, steadying influence.
"That's a cool thing about teaching. People say, 'Oh my gosh. The world is changing.' Yes, for sure, without question it is. And also, it's really not that different," Kelm said. "I look at eighth-graders today, and there is a lot about them that is exactly the same as it was 20 years ago. They've got that same silliness, playfulness, to them. There's that same piece where they're coming of age and trying to figure out what they believe and how they believe it. All of those constants in people are still there, year after year.
"It's such a gift to be 20 years into my profession and still feel like I can't wait to go to school tomorrow."