Skip to main content
February 9, 2023
Boldt nominated for MN Teacher of the Year
Two BHM teachers, Jenny Boldt and Danielle Kelm, receive nominations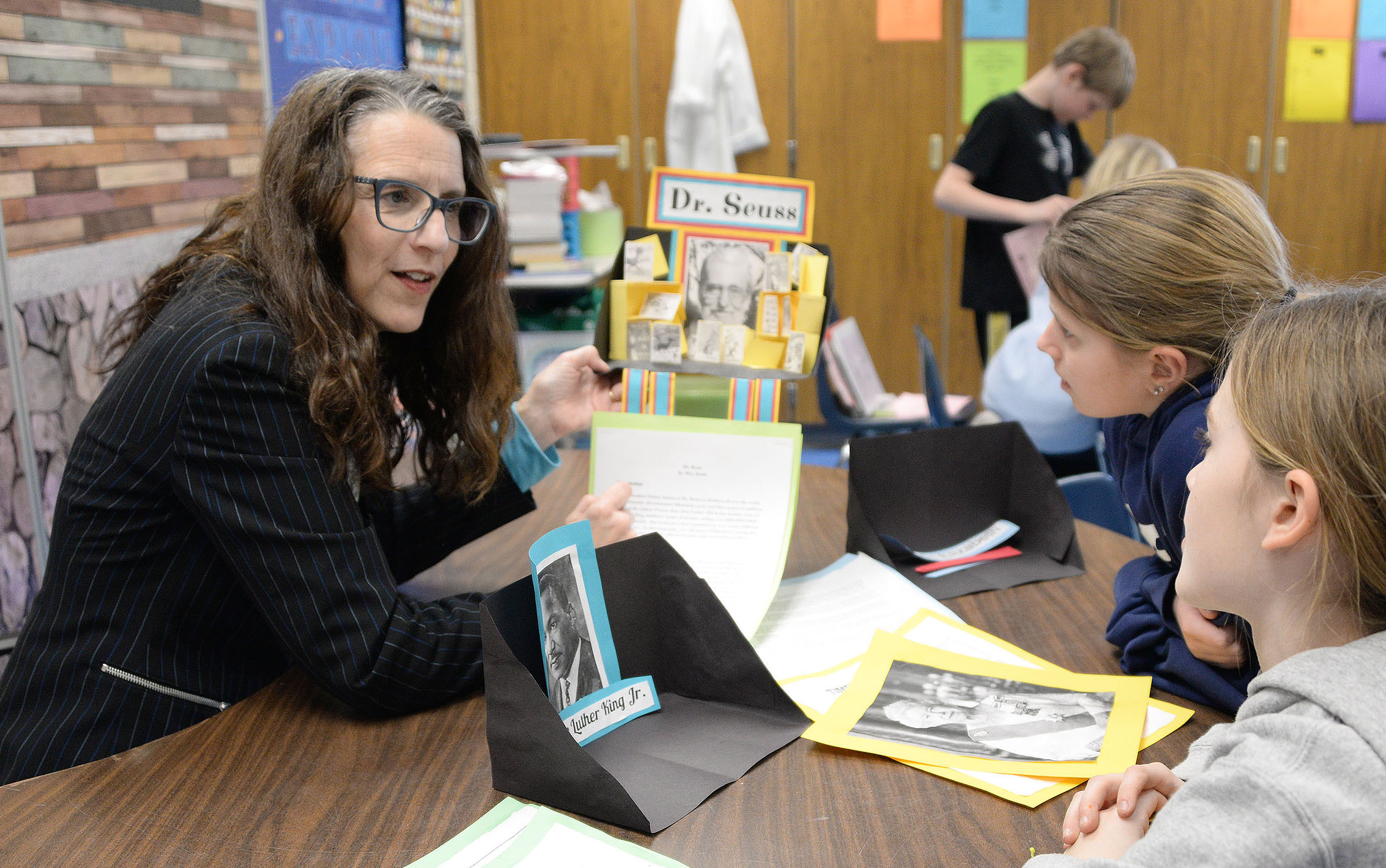 Over her 32-year teaching career, Jenny Boldt has been sustained by the same enthusiasm for exploration that led her to the classroom in the first place.
"I have always loved learning new things," she said. "I'm curious about everything, all the time. My brain doesn't shut off. So I thought I might as well make a job out of that, teaching younger students a love for learning, just like I had."
A measure of her success in that regard came at the end of January, when Education Minnesota announced that Boldt is among just 131 teachers statewide who have been nominated for Minnesota Teacher of the Year.
While nomination is a rare honor, Boldt is actually one of two teachers in the Buffalo-Hanover-Montrose School District who are up for the title, along with English and Quest teacher Danielle Kelm of Buffalo Community Middle School. Kelm is featured in a separate story.
In a nomination form for Boldt, the parent of one of her former students hailed her efforts to develop the Hanover School Forest into an outdoor learning area that augments work done in the classroom. Her class spends a half hour each week on "Forest Fridays" to maintain feeding stations, study lichens and animal signs, and more.
"Mrs. Boldt is beyond dedicated to her job," the parent wrote in the nomination form, going on to describe the features of the school forest. "She gives the school, the community and her classroom the gift of vitamin 'N' (nature) weekly. … She is the best of the best in our Minnesota education system."
Boldt's class and the school forest were recently highlighted on television when KSTP meteorologist Chris Reece and a camera crew visited to do interviews and film the student activities. Click here to watch the segment.
The road to BHM
Boldt started her teaching career in her native Mankato after graduating from Mankato West High School and Minnesota State University, Mankato. After a layoff, however, she and her husband, who had just earned his teaching degree as well, were both hired to teach in Odessa, Texas, where she served at magnet school for gifted students.
"We just decided to up and move. It was an adventure," she said. "It was a desert part of Texas, oil country, so there were derricks everywhere. There were lizards all over the place and cacti. It was just totally different."
After eight years in Texas they moved back to Minnesota to be closer to their families, and Boldt was hired as a gifted education specialist for Buffalo-Hanover-Montrose, specifically serving the elementary schools in Montrose and Hanover. After another eight years in that role, took an opportunity to work in one building only, joining Hanover Elementary as a fourth-grade teacher.
Favorite aspects of the job
Why did she gravitate toward teaching younger students?
"I think it's because it's not just one subject; I get to teach many things all day long, and it changes from day to day," said Boldt. "I like that aspect of it. It's super busy, but I like the change from one subject to the next. It keeps things fresh."
Not only does she get to cover almost all content areas, but she can also use one academic discipline to illuminate the next.
"I like that you can teach things in a cross-curricular way," she said. "Most kids like art and most kids like science ­­– and those are two areas that I just love – so I try to incorporate art and science across everything we do," said Boldt. "Sometimes when I just verbally explain something they don't understand, but if I draw it for them they get it. It can help to relate the topic to something else."
Regardless of subject, Boldt most enjoys the daily interaction with her students. Fourth grade can be a significant step up in terms of academic difficulty, but Boldt emphasizes effort and encourages her students to view mistakes as learning opportunities.
"I get a kick out of the kids," she said. "Sometimes they say and do things that are just kind of goofy. I go home and I have little stories to tell my husband or my daughter or my grandkids. They just think, 'Oh, she's got a fun job.' And it is. It's fun."
Award nomination
When she received notice from the state that she was a Teacher of the Year candidate, it was so unexpected that Boldt nearly deleted the email, thinking it didn't apply. When she looked closer, however, the truth emerged.
"I was kind of blown away because I never thought what I do would be appreciated to that level. This is how I do things, and I do it that way because I love to show that learning is fun," she said.
The Teacher of the Year program, now in its 59th year, is open to public and private PreK-12 teachers, as well as instructors in early childhood family education and adult basic education. A panel of evaluators from various fields will review the nominations, select semifinalists, and eventually name a winner on May 7.
While her nomination for the honor is deeply appreciated, Boldt said some of her most meaningful encouragement over the years has come in more routine fashion: when she hears stories of students going home and re-creating experiments that they did in school, or looking into something new they learned about in the forest.
"Those kinds of things just make my day, because it didn't just stay in the classroom, it went with them," she said. "And I hope that it goes with them for life, that they love learning and stay curious."