Hoofprint and Yearbook Shines Again!
Congratulations to the Hoofprint Newspaper and Tatanka Yearbook!
On October 10, at the Minnesota High School Press Association (MHSPA) Convention, the 2019 BHS yearbook won All-State Gold and was named the best yearbook in Minnesota by the MHSPA for the seventh consecutive year. The Hoofprint took second place Best in Show and All-State Silver for Newsmagazines. The yearbook staff took first or second place in every Gold Medallion award category at the competition. 
Students form both publications attended the convention and a small group of the 2019 yearbook editors were able to attend to receive the awards, as well.
Hoofprint Newsmagazine & Hoofprint.net:
All-State Silver for Hoofprint.net
All-State Silver for The Hoofprint
Second Place Best in Show - Newsmagazine
Fifth Place Best in Show - Hoofprint.net 
Tatanka Yearbook:
First Place Best in Show
All-State Gold - Tatanka
Gold Medallion Individual awards:
Academics and Club Copy - 
- Jonah Forsyth and Lucy Johnson - First Place
Academics Club Photo -
- Chloe Paul - Third Place
- Chloe Paul - First Place
Sports Copy
- Kaitlin Galdonik and Gabby Hernandez - Third
- Kaden Stubstad - Second Place
Sports Photo
- Carter Barton - Second Place
- Alana Hartman - First Place
Spread Design
- Grace Moran and Jayden Perry - Fourth Place
- Sadie Driver and Erica O'Borskey  - First Place
Student Life Copy
- Ryan Park and Kaden Stubstad - Fourth Place
- Lucy Johnson and Amanda Krinke - First Place
Student Life Photo
- Jack Leipholtz - Third Place
- Bryce Thompson - Second Place
Yearbook Theme Concept Package
- Tatanka - First Place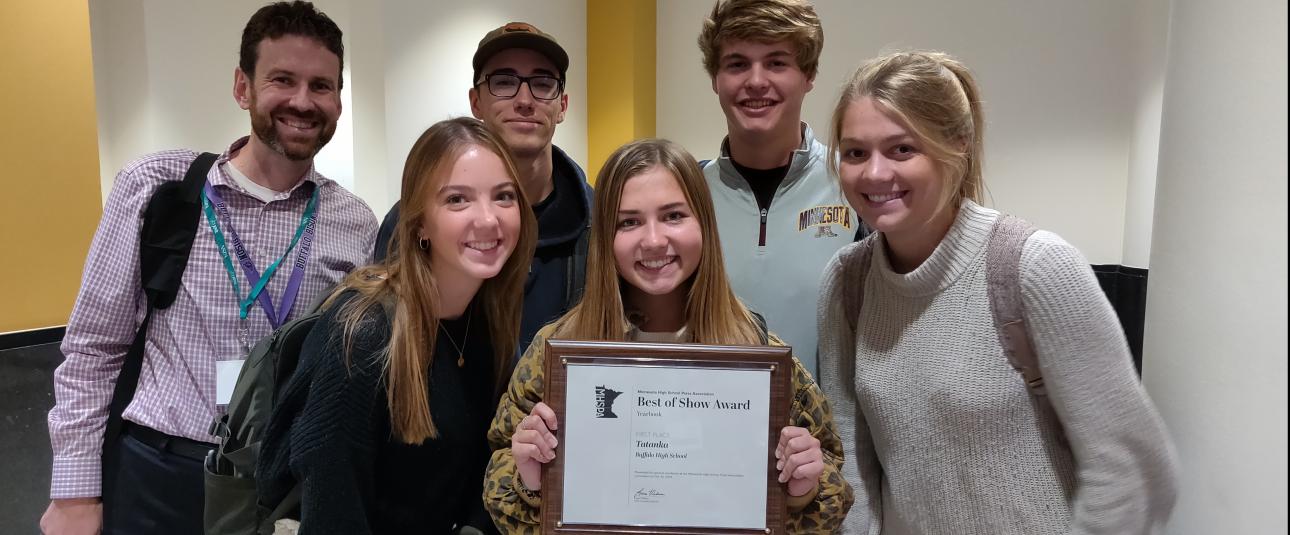 2019 Yearbook Editors receiving the All State Gold award for the 2019 BHS Yearbook