Skip to main content
September 22, 2023
Zheng a National Merit semifinalist
Less than 1% of seniors earn the distinction nationally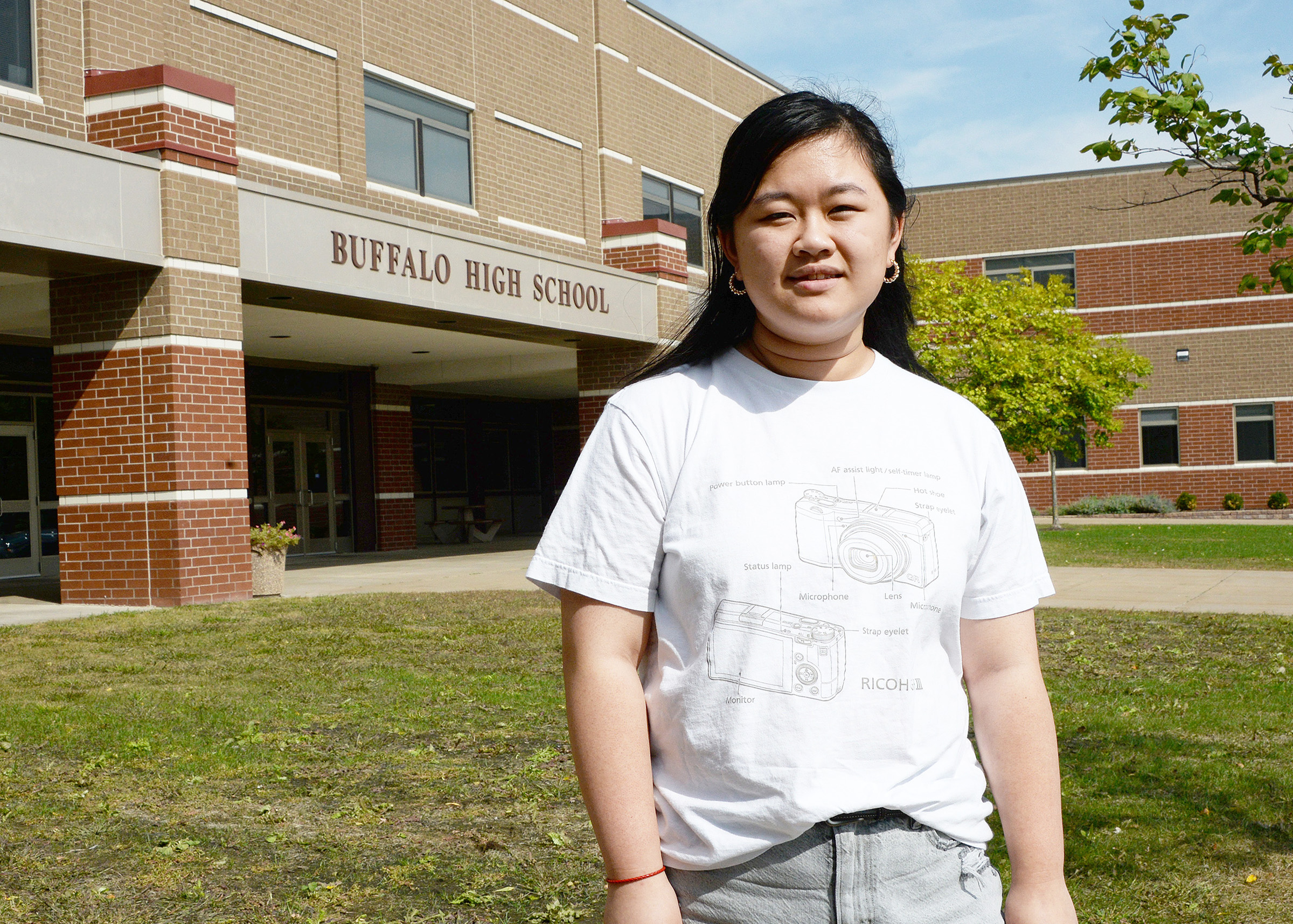 Fewer than 1% of high school seniors nationwide have become National Merit Scholarship semifinalists this year, but one of those standout students hails from Buffalo High School.
Yiqian "Lexi" Zheng is among roughly 16,000 semifinalists who qualified for the distinction through exceptional performance on the 2022 Preliminary SAT/National Merit Scholarship Qualifying Test. More than 1.3 million students from 21,000 schools took the test.
"This is a huge deal when you think about the mathematics of it, the number of people who take the assessment vs. the number who receive that honor," said BHS Principal Mark Mischke. "In a competitive sense, she is rising above students throughout the nation who are choosing to try to compete in this area, so it's a great accomplishment."
Rare though the honor is, Mischke added that it is not surprising to see Zheng distinguish herself in such a manner.
"In terms of the core values we have here, she checks all the boxes when you think about what it means to be a kind, proud, driven leader. That's Lexi," he said. "So she is an outstanding representative of our school."
Rising to the top
Zheng open enrolled to the Buffalo-Hanover-Montrose School District from St. Michael-Albertville in fifth grade to join the Quest program for gifted students at Parkside Elementary. The comradery with other advanced students and accelerated material helped nurture her academic abilities through middle school and into high school, where she has flourished in music, math, science, English and journalistic activities like newspaper and yearbook. She has also been an active Knowledge Bowl and Math Team member.
Asked what the National Merit honor means to her, Zheng explained in humorously self-deprecating fashion that it has been a confidence-booster.
"I've never considered myself incredibly intelligent or anything like that, because I do a large number of dumb things, OK?" she said with a laugh. "But in a way it feels like a certificate of competency; it shows that I'm actually more competent than I thought I was."
In order to become a finalist, Zheng must now submit a detailed scholarship application including information about her academic record, participation in school and community activities, leadership, employment, honors and awards. There are also various other stipulations.
About 15,000 semifinalists are expected to complete those steps and become finalists for roughly 7,100 National Merit Scholarships, which will be awarded next spring. Recipients will be selected on the basis of their skills, accomplishments and potential for success in rigorous college studies.
Studies and instructors
Math and science, particularly chemistry, have been favorite subjects of study for Zheng during high school, though the application rather than the theory is what she truly enjoys.
"I like doing math a lot more than I like learning math," she said. "It's the same sort of thing with science. I didn't like sitting and learning about it, but I do like having that knowledge and being able to apply it to solve a problem."
English is another favorite subject area, one she has applied through her newspaper and yearbook work.
"I like journalistic writing because there are more components to it – you get to talk to people and you get to tell a story, but you don't have to make anything up," Zheng said. "Creativity has always been one of my weaker spots."
One wouldn't guess that after also considering her artistic side. Zheng plays piano outside of school, she is the co-captain of her marching band section, and she participates in multiple BHS ensembles on clarinet and alto saxophone.
"I think being a music student is really helpful in taking tests, especially ensemble music, because it trains you to know that if you make a mistake you don't stop," she said. "You can't get stuck on a problem. Later you can come back and fix it on your own time, which is exactly like testing strategy."
As for influential teachers, Zheng credited former middle school math team advisor Steve Hermanson with making the subject fun, and recently retired Carlton Urdahl for carrying on that enthusiasm for math in high school. She has also particularly enjoyed learning from Ryan McCallum in language arts, and Scott Rabehl in band.
"They've just been good all-around teachers," she said.
Future plans
While Zheng has not yet identified her college destination or career of choice, her affinity for chemistry has her considering pharmacy work because of its hands-on nature. Since she currently takes a few post-secondary classes from the University of Minnesota-Twin Cities, that is one college option.
"But I'm also applying to Ivy League colleges on the off chance that I get in," Zheng said. "My pipe dream school would be Harvard or MIT."
For any application, National Merit honors are a nice addition to her resume.
"I'm just really happy for her," said Mischke. "This is going to open up doors of opportunity that she might not have otherwise. She'll get to decide where she goes, and I'm excited to see where she lands."
Zheng is the daughter of Dexi and Lingsu Zheng of St. Michael.