Skip to main content
March 8, 2023
Stained glass links to outdoor learning
Artist-in-residence completes iconic artwork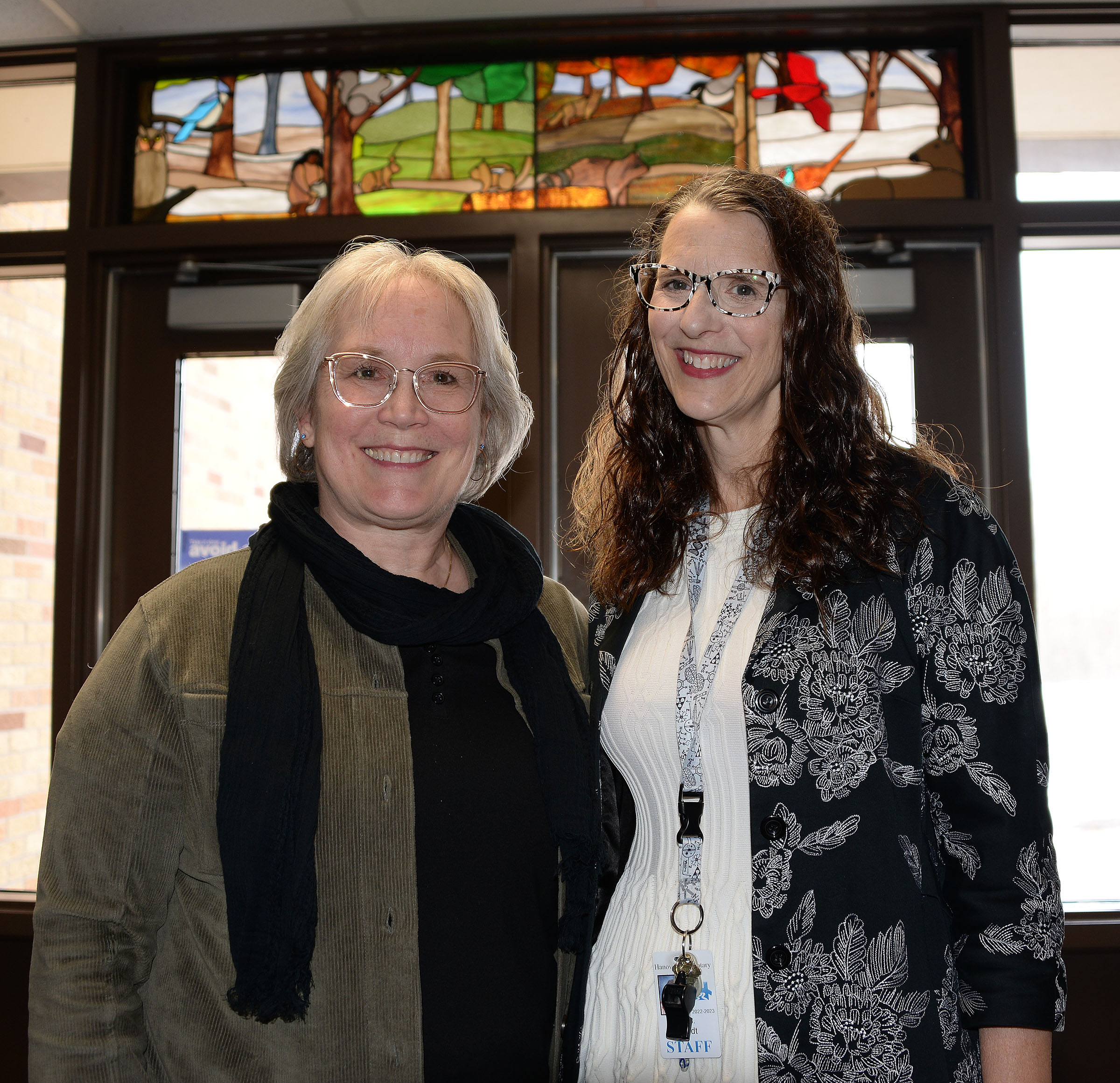 Hanover Elementary students heading outdoors to the school forest now pass under a unique stained-glass window that beckons them on with a preview of what they can find among the trees.
The eye-catching piece is the work of Mary Ellen Gutknecht of Buffalo, who has served as an artist-in-residence at Hanover Elementary for the past 24 years. During that time she has focused on drawing, helping students K-5 understand various artistic principles.
"I try to take everything I learned in school in art and drawing and dial it down to teach them some of the concepts, including light and shadow," she said.
On Tuesday, March 7, fourth-grade teacher Jenny Boldt and Gutknecht hosted a dedication ceremony for the stained glass, which was installed by professionals from Pine River the previous week. Boldt had written a grant application to the Central Minnesota Arts Board for the project, which was approved, and the Hanover Parent Teacher Organization funded the installation.
"Students at the school selected the various animals, both furry and feathered, to be incorporated into the artwork," Boldt said. "Over the last few months, Mrs. Gutknecht, known as 'Mrs. G' to the students, has included them in the process of making the stained-glass window panel, from the paper-and-pencil design to cutting the glass, to soldering, and to putting it all together, in a series of videos outlining the steps in making 'their window.'"
Gutknecht said the window took about 100 hours to complete. The design features all four seasons, along with birds and animals spotted on trail cameras in the forest and chosen by students. It incorporates a quote from Vincent van Gogh: "If you truly love nature, you will find beauty everywhere."
"The window was installed … over a doorway leading from the traditional learning spaces (classrooms) to the outdoor learning spaces of the adjoining Hanover School Forest," said Boldt. "It thus serves as a portal from one learning area to another."
Gutknecht said the window project is just the latest step in a long relationship with the Hanover school.
"It's a great school. I've always enjoyed coming back," she said. "Every year we build on the year before. The staff is supportive, the students are enthusiastic, and it's just a great place all around."