Skip to main content
January 31, 2023
Scherber, Viteri earn Triple 'A' Awards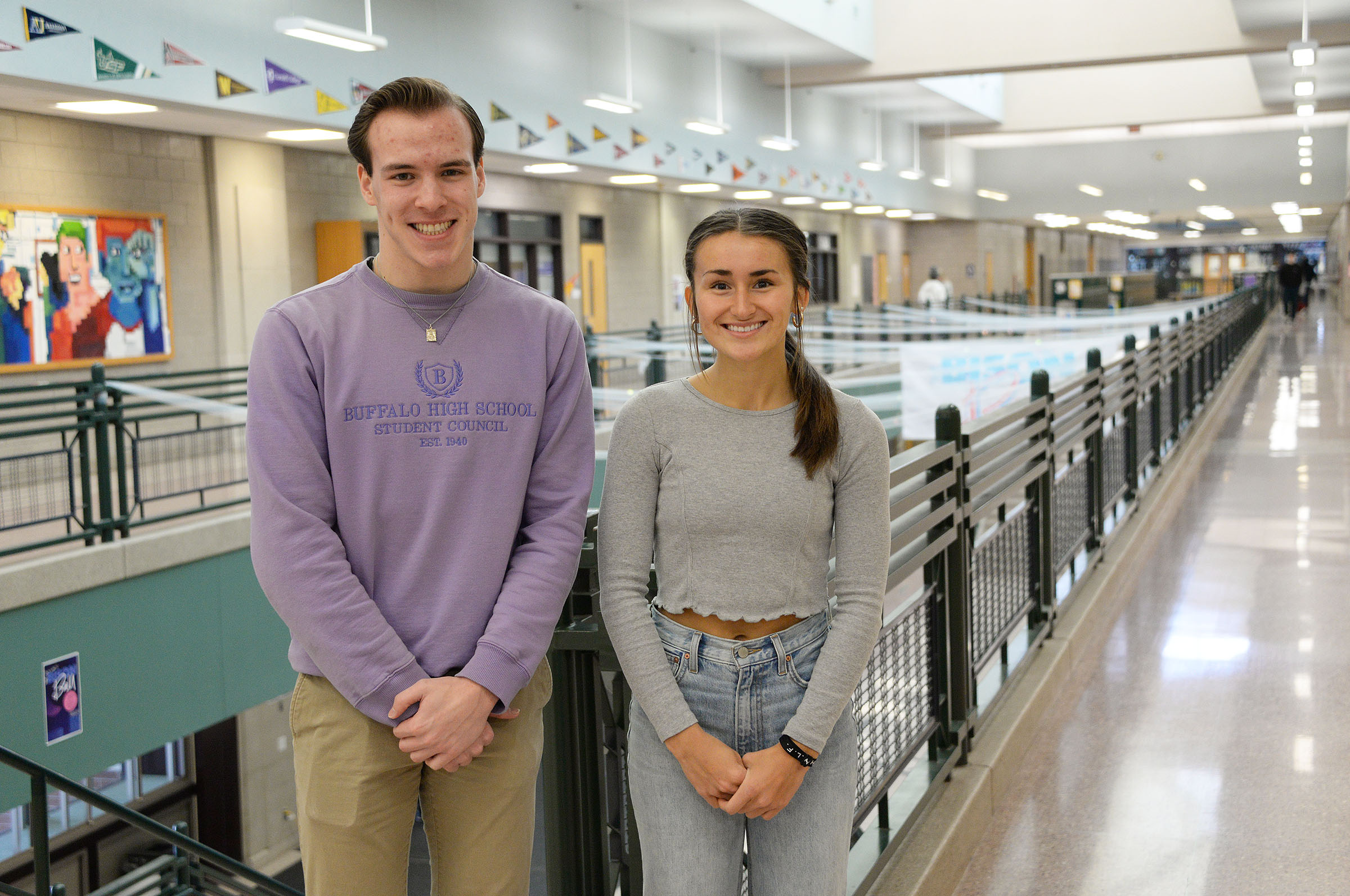 It's a rare student who can simultaneously excel in the classroom, on the playing field and in creative expression, but Buffalo High School seniors Victoria Viteri and Matthew Scherber have distinguished themselves in all three areas to become the school's Triple 'A' Award winners for 2022-23.
The Minnesota State High School League award honors students who stand out in the academics, athletics and arts.
"I had never heard of the Triple A Award before getting recognized, but it's really an honor to be picked," said Viteri.
Scherber didn't know much about it either until he was notified of the recognition, went home, and learned that his mother, Deborah, had won the same award for Buffalo in the 1990s.
"I had no idea she had done that," he said with a laugh.
Both seniors plan on attending the University of Notre Dame next year, and both said that aside from intentional time management and single-minded focus on each task at hand, their biggest key to success is their faith.
"Knowing that's way more important to me than anything that happens with my activities and grades just brings about a peace that allows me to focus on things in a different way," said Scherber. "I'm not worried about how things are going to go; I can be at peace knowing that however they go is how they're meant to go."
Viteri agreed.
"That's the No. 1 thing for me, because it really keeps me content and happy with whatever ends up happening in my different activities," she said.
Matthew Scherber
Scherber has taken the initiative to challenge himself to the utmost academically, taking eight College in the Schools courses in high school, pursuing two post-secondary enrollment options classes, and even going beyond conventional curriculum options as a freshman and sophomore to study on his own for Advanced Placement tests in government, biology and art history.
"Just diving into a subject I'd never studied before but had a lot of rich history was something I really enjoyed," Scherber said in reference to the art history course, adding that his favorite classes fall in the social studies realm.
Despite the heightened level of difficulty in his studies, Scherber has still managed to post a near-perfect 3.98 grade point average.
Outside of his impressive book work, Scherber is also an accomplished photographer who took first place in the national 2022 Congressional Art Competition, earning his work a year-long exhibit in the U.S. Capitol. In previous years he took second and third place in the same competition. 
Scherber also serves as the editor of the perennial All-American BHS yearbook, and has won a Minnesota High School Press Association Gold Medallion for taking one of the best high school sports photos of the year.
"The achievement I am most proud of, however, has been my 2022 Knowledge Bowl State Championship on the youngest team ever to win," he said in his Triple A application.
In the athletic realm, Scherber has wrestled since childhood, and has taken the mat for the varsity squad since 10th grade. Drawn by the novelty of the sport, he also took up pole vaulting for the track and field team in his sophomore year and is serving as a team captain this year.
Next fall at Notre Dame Scherber plans to pursue a degree in global affairs. Following that, he may explore a graduate degree, but his ultimate goal is a career in the U.S. Foreign Service.
One of the teachers he named most influential in his education, Ryan McCallum, wrote in a letter of recommendation that Scherber is uniquely equipped for that role.
"His passion for knowledge and respect for history has led to an awareness of the world, geopolitical issues, and government unlike any student I have worked with in my 20 years as an educator," McCallum wrote, adding that "Matthew has distinguished himself as the absolute best that our district has to offer."
In all things, Scherber said he aims for a mix of intensity of effort balanced by restorative hobbies and interests.
"Each of the three pillars of Triple 'A' have allowed me to express myself in distinctive and valuably diverse ways," Scherber wrote in his application. "In order to live a well-integrated life, we must feel comfortable weaving the various aspects of our lives together into a single coherent tapestry. … In sum, partaking in a wide swath of MSHSL offerings has allowed me to grow holistically, in body, mind, and soul."
Scherber is the son of Jason and Deborah Scherber.
Victoria Viteri
Viteri has maintained a 4.0 GPA while taking 11 College in the Schools courses during high school, and said her favorite courses have been CIS Statistics and college-level algebra.
"I really, really enjoy math," she said, adding that Yearbook has been another one of her favorite courses. "We have to get a lot of spreads done, help a lot of writers, find pictures and edit stories, and I do really enjoy that class because it seems more like an activity than a class."
Viteri said that in her experience all teachers have shown a high level of care for their students, but Sarah Rodenwald, who taught her college-level chemistry, has been particularly influential.
"She really cares about our learning and education, but also expects us as students to take hold of our own learning and how far we want to get," Viteri said. "She's very inspiring."
As far as activities, Viteri is the sports editor for the yearbook, and won the Student Life Story of the Year from the Minnesota High School Press Association for her first article. She has also been a defense lawyer in mock trial all four years, and was named Best Lawyer numerous times for a team that went to state each of her first three years of high school. In addition, she serves as the Senior Executive of the school's National Honor Society.
In sports, Viteri has been a four-year varsity level soccer player, and has been an all-conference performer for the lacrosse team each of the last two years.
Outside of conventional high school competition, she also holds her professional rodeo card and made it into the top 20 at the 2020 Junior World Finals, the top 15 in the 2021 Junior National Finals, and is a five-time Minnesota State Fair barrel racing champion.
"I can say with confidence, Victoria Viteri is one of the biggest difference makers I've had the pleasure of working with over the 15 years I've been at BHS," said Principal Mark Mischke in a letter of recommendation. 
Mischke added that Viteri's accomplishments are impressive not only in their own right, but also because of the way she conducts herself.
"She leads by example, and lets her actions speak for who she is as a person," he wrote.
Next fall Viteri plans to enter the Mendoza College of Business at Notre Dame and study finance, with an eye toward entering the business world as a financial officer. On the side, she aims to raise horses and ride them in professional competition.
"There are a lot of other really amazing students here, so I am very honored to represent our class with this award," Viteri said.
She is the daughter of Eduardo Viteri and Deborah Shefveland.