Skip to main content
February 6, 2023
One act play headed to state
BHS production claims Section 5AA title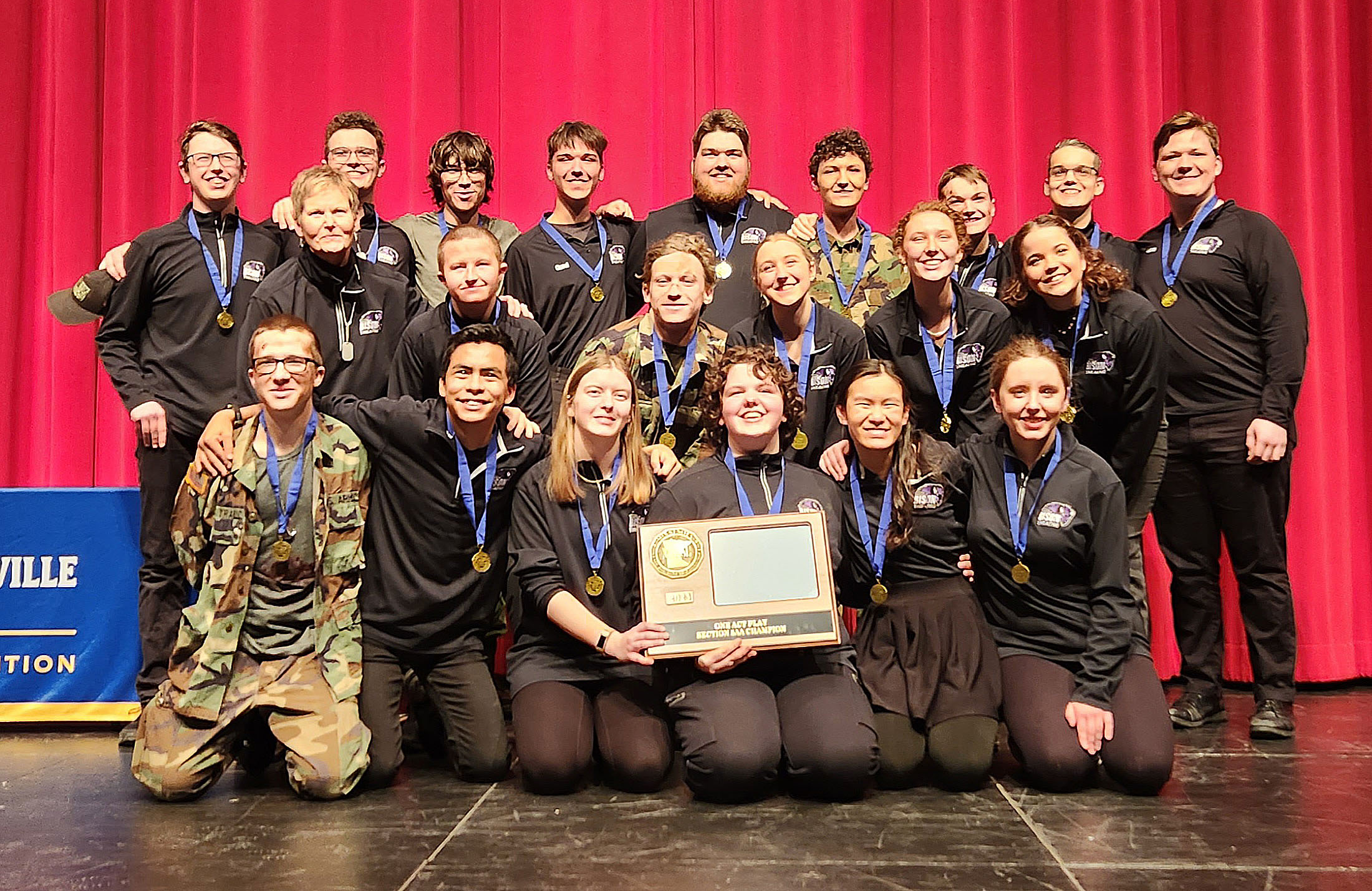 The Buffalo High School One-Act Play, "Bury the Dead," took first place in the Section 5AA finals over the weekend, receiving No. 1 rankings from all three judges. Andover took second place.
The Class AA state one-act festival is scheduled for Thursday, Feb. 9, at St. Catherine University's O'Shaughnessy Auditorium in St. Paul, with Buffalo performing at 11:45 a.m.
For anyone who would like to see the play locally, a public performance takes place tomorrow evening, Tuesday, Feb. 7, at 7:30 p.m. in the BHS Performing Arts Center. Tickets are available at the door.
Cast and crew members shown here are, front from left: Josh Froberg, Aidan Radloff, Jojo Nobush, Britt Drennan, Kylie Cox and Kenzie Donavan. In the second row, from left, are director Tracy Hagstrom Durant, Ben Krinke, Dylan Mart, Avery Russek, Neve Elo and Zoe Donofrio. In the third row, from left, are Derek Dewolfe, Drew Elo, Kadin Anderson, Adam Gusel, Sam King, Lucas Louwagie, Harrison Klaphake, James Nelson and Lucas Bokusky.
About the play
Written in 1936 by Irwin Shaw, "Bury the Dead" is set in wartime and a military burial detail goes about its sad duties. The chaplain arrives to say prayers for the dead – but then a groan is heard from the newly dug graves, and then another. Slowly the dead soldiers rise up, pleading not to be buried, asking to be allowed to rejoin the living. Word of their insurrection spreads rapidly – to the soldiers in the field, the general, and the news media, with alarming effect. In a series of touching scenes, the dead men talk with their loved ones about the days of living, now lost forever. But must the dead yield so easily? As the play ends, the corpses rise and move away, while a shaken general is helpless to stop them.