Skip to main content
March 7, 2023
Mock trial competes at state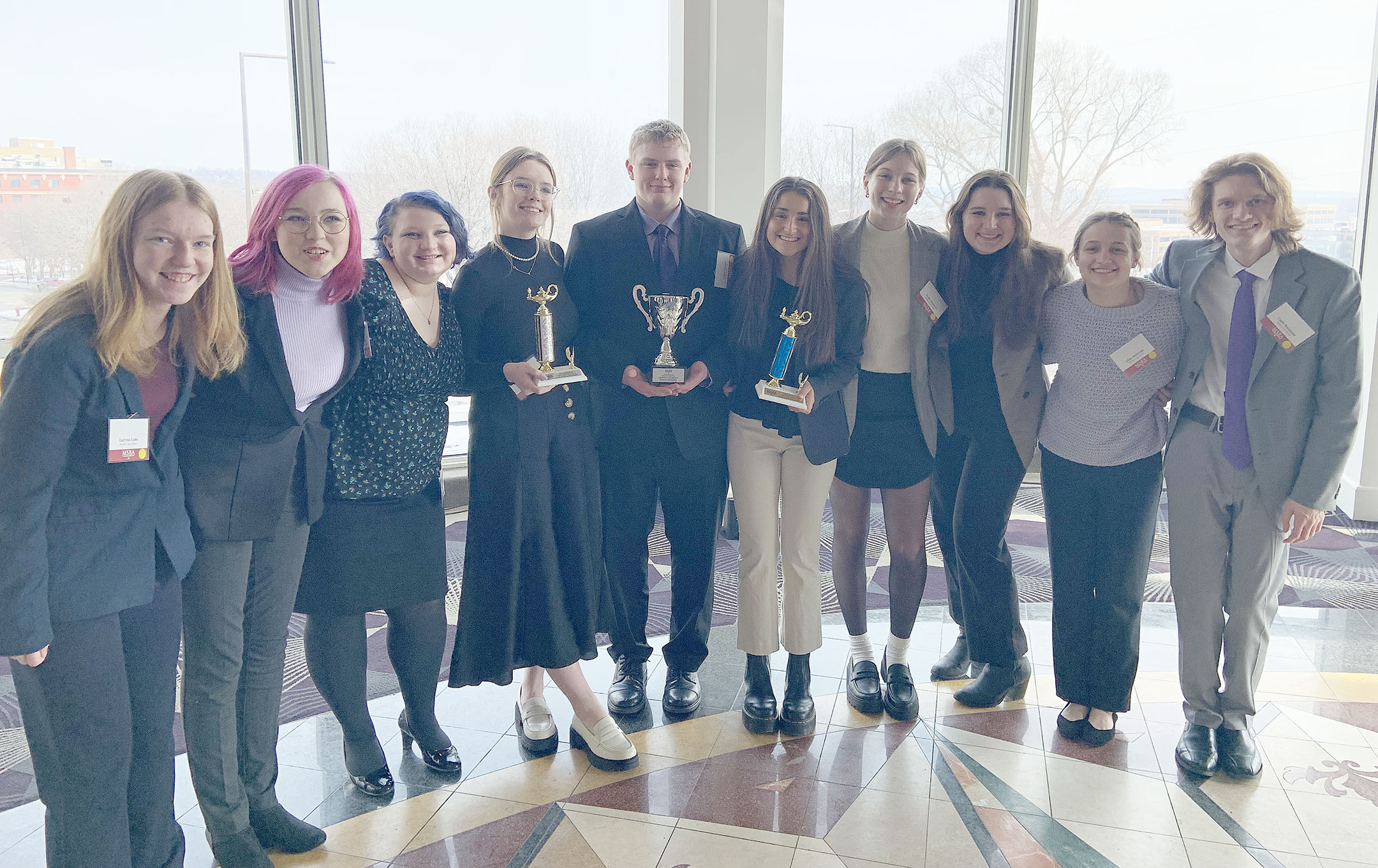 For the third time in as many years, Buffalo High School Mock Trial students matched wits with some of the sharpest minds in Minnesota at the state mock trial tournament.
The tournament was held Thursday and Friday, March 2-3, at the Federal Courthouse in St. Paul. Buffalo finished 15th out of 16 teams, but just making it to the final competition was a significant accomplishment for a group that was short on experience.
"I am very proud of this year's team because they are a young team," said coach Jason Swanson. "I only had one returning member on the varsity team. I am already looking forward to next year's season, as many younger competitors have now been to the state competition. They will bring those experiences with them next year."
The crucible of state competition may have been new to most of this year's team, but Buffalo High School has established a tradition of success in the courtroom in recent decades. In the past 20 years, Buffalo students have competed at state 13 times. Eight of those years included top-5 finishes, and in 2007 the team won the state title and earned a trip to nationals.
This year's tournament consisted of the top 16 teams out of 110 in the state. The champion was Nova Classical Academy, followed closely by Wayzata. Apple Valley, Lakeville South and Eden Prairie rounded out the top five schools.
"They have been to nationals multiple times," Swanson said of Nova Classical Academy.
Mock trial participants benefit from the challenge in a variety of ways.
"Students gain a better understanding of the law, debate, as well as how to think critically," said Swanson. "Many parents joke that they become frustrated with their child after the mock trial because they get so good at forming and backing arguments."
About this year's case
Mock trials alternate between civil and criminal cases each year. This year's challenge was a medical negligence case in which a University of Minnesota student tore their ACL. The student was put on a physical therapy plan, but evidence showed that the student was not following it correctly, and the student later re-tore the same ACL.
A complicating factor was that an MRI revealed that the placement of the new graft, or repaired ACL, was not in an ideal location, according to some experts in the medical field.
"The case relied on the ability to determine whether the plaintiff was at fault for not adhering to their PT after surgery, or if the fault was on the doctor for either using the wrong type of graft during surgery, or misplacing the graft," said Swanson.
Individual honors
Following the competition, an award luncheon was held at the Intercontinental Hotel in St. Paul, where the team collected its Region 2 championship award.
In addition, senior Reina Valli was named All-State Witness for Region 2, and senior Victoria Viteri was named All-State Attorney for Region 2.
Other members of this year's state team included seniors Lydia DesMarais, Caleb Hultmann, Faith Mutterer and Abby Seestrom; juniors Elizabeth Bolin and Ayden Gawtry; and sophomores Fia Carlson and Laryssa Laho.