Skip to main content
March 9, 2023
History Day features student research
Nine projects advancing to regional competition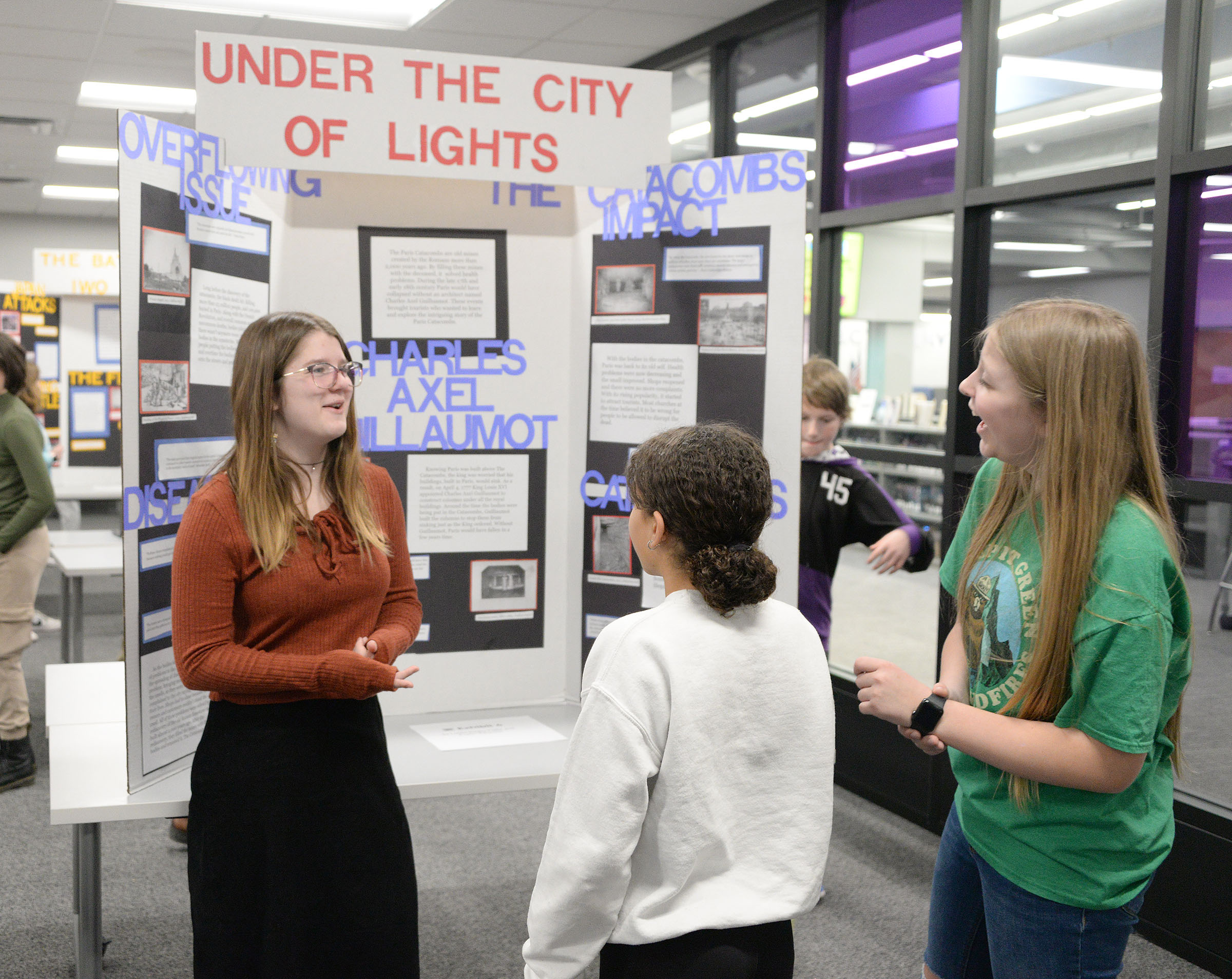 Young historians presented the fruits of their scholastic labors during a History Day showcase at Buffalo Community Middle School on Wednesday, March 1.
Sixth- and seventh-graders in the Quest program addressed the theme "Frontiers in History: People, Places and Ideas," as part of the National History Day in Minnesota event, organized by the Minnesota Historical Society. Students were challenged to choose a topic related to that broad theme, to conduct extensive research, and then to present their findings via exhibit, documentary or website.
What was the best part of the whole endeavor?
"Putting it together and seeing the final product, because we got to finally see what we accomplished together as one," said sixth-grader Trinity Poepke, who presented an exhibit about "Harriet Tubman and the Underground Railroad" along with partner Maryam Sonbol.
"It feels great to be finished after a lot of months doing it," agreed Sonbol.
Students began choosing topics and launched the research process in October.
"History Day not only allows students to address the Minnesota English Language Arts standards relating to research, writing over an extended time, the writing process, reading informational texts and more, but it also lets them engage in research beyond our school," said Quest English 7 teacher Danielle Kelm. "They can reach out to people with direct knowledge of their topics. They use books and digital resources to investigate their topics using primary and secondary sources."
As part of the research process, students also took advantage of a grant to visit the Ridgedale Library in Minnetonka, where they sought help from librarians about their topics, received instruction in using digital databases, learned how public libraries operate and received their own library cards.
"In addition to academic gains, there are a lot of personal gains, too," said Kelm. "When reflecting on the unit, students talked about the creative freedom they got to use in making their projects and the skills gained that are outside their comfort zone, like filming a documentary or building a website. They overcame technology hang-ups, learned how to work together or solo, compromised and found new ways to do things, and learned to let go of their perfectionism."
Project highlights
Seventh-graders Nic Berg and Trent Elletson composed a documentary on "The Internal Combustion Engine and the Impact."
"We were interested in the idea of automobile frontiers, and then we narrowed it down to the first gasoline engine that was put in a car," Berg explained. "We learned how to edit videos and add sound and insert photos into the video. We learned a lot."
Their biggest challenge was organizing their material, and placing it in its proper historical context.
"We had the topic, but we had to talk about what happened just before then too, so that was really hard," Berg said.
Sixth-graders Jayla Loberg and Josie Roehl studied "The Battle of Iwo Jima," which a family member had a connection to, and created an exhibit with their findings.
"We did a little research on it and it sounded super interesting," said Roehl. "It was actually difficult to come across primary sources because a lot of things like journals weren't published, but we found a couple of newspapers that were very helpful."
The exhibits could not exceed 500 words to explain the visuals, and Loberg and Roehl had to do some careful editing to fit within those parameters.
"Our thesis could only be 50 words, and at one point we were at 80," said Loberg. "That was a little hard because had to cut a bunch of stuff. Like, 'Do we really need this?'"
"We had to go through it and check it and make sure there were no spelling or grammar mistakes, that it made sense and it made our point – everything we needed to tell about our topic," said Roehl.
Overall, Kelm said she was pleased with the quality of the work students did on the 10 total exhibits, six websites and one documentary.
"I love the variety of projects that students chose to create," she said. "When BCMS students and staff toured the projects at our showcase, a frequently overheard comment was, 'Wow, I can't believe a middle schooler made this!' These projects are fully their own creation, and they're amazing."
Regions
Students had the option to enter their projects in the History Day competition, and the projects below are moving on to the regional event on Saturday, March 25, at St. Cloud State University. There, judges will determine which projects advance to state in April.
"The Internal Combustion Engine and the Impact," a documentary by Nic Berg and Trent Elletson.
"Elizabeth Blackwell's Medical Mission," an exhibit by Miliya Chenvert and Sydney Hoffman.
"Recognition of Tribal Sovereignty: A Frontier in History," a website by Violet Ditlevson.
"Clara Barton and the Red Cross," an exhibit by Brynn Hiivala and DeLana Taylor.
"Galileo and the Telescope," an exhibit by Elly Kohls.
"The Battle of Iwo Jima," an exhibit by Jayla Loberg and Josie Roehl.
"Ida B. Wells and the Anti-Lynching Movement," an exhibit by Juniper Lostetter.
"Anesthesia, A Frontier in Medical History," a website by Harris Lux, Noah Thompson, and Henry Umhoefer.
"How The Beatles Changed Music History," an exhibit by Lizzy Plaisted.