Skip to main content
April 17, 2023
BHS to present 'Twelfth Night'
Spring play runs April 20-22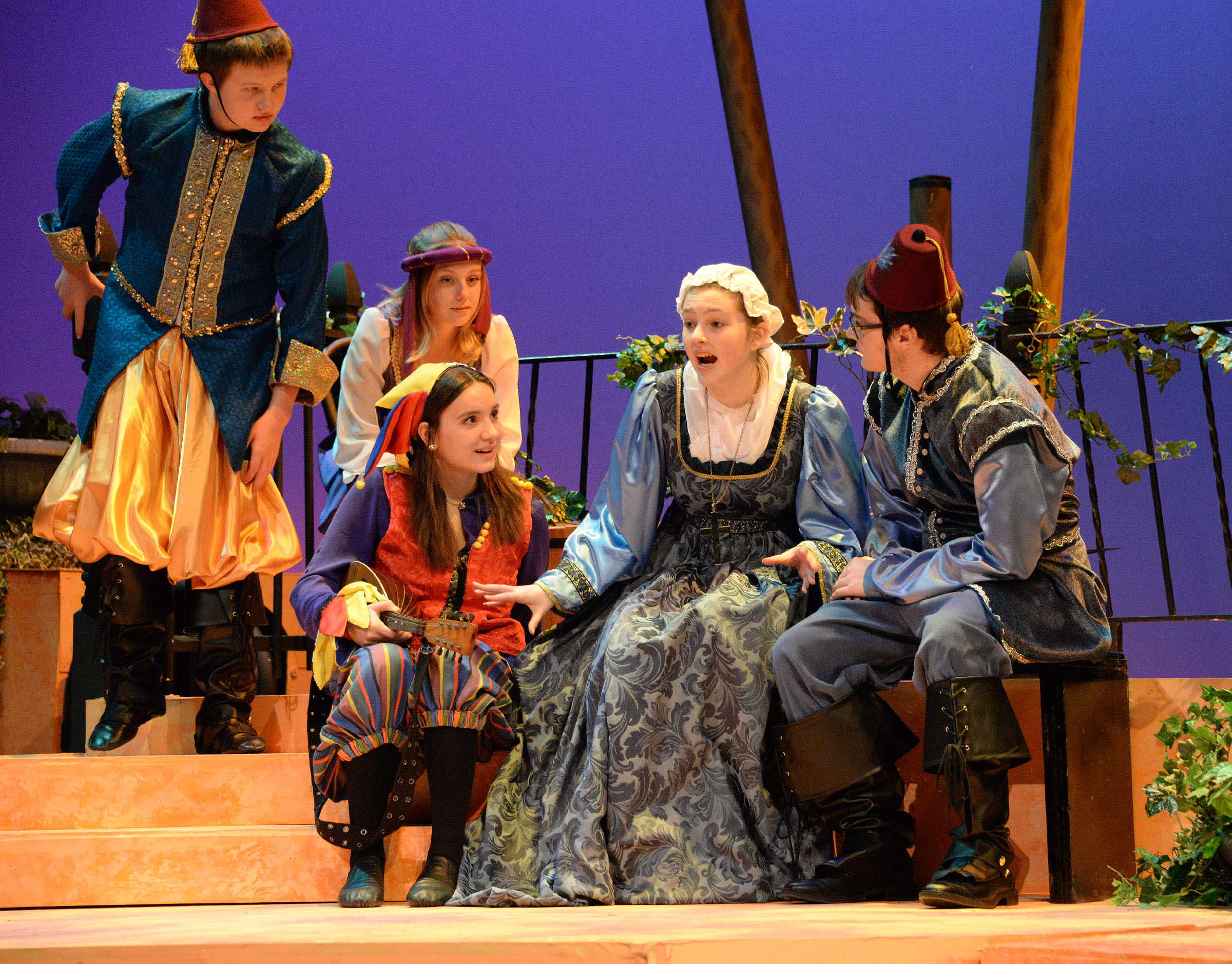 Four years ago Kylie Cox, then a ninth-grader at Buffalo High School, learned that the spring play she and her classmates were preparing for, Shakespeare's "Twelfth Night," would be canceled due to the onset of COVID-19.
Now a senior preparing for the final show of her high school career, Cox will finally get the chance to finish what she started when BHS students present "Twelfth Night" Thursday, Friday and Saturday, April 20-22, in the Performing Arts Center. Each show begins at 7:30 p.m.
"It's definitely surreal," Cox said last week as cast and crew members put the finishing touches on their preparations. "It's cool to be on the opposite side of things now, mentoring the underclassmen. I was in their place last time we did this show, so it has definitely come full circle."
Why did director Debb Bestland choose the Shakespeare comedy again this time around?
"It just seemed like a fun thing for them to be able to finally perform the show that they started out with," she said. "Also, kids don't get Shakespeare opportunities very often. It's rare at the high school level because it takes a ton of work to try to remember and understand."
Cox agreed.
"Shakespeare is amazing, I love him, but it's a very hard language to learn," she said. "There are so many challenges when it comes to memorizing lines – just regular English lines – but this is almost like a whole other language."
Storyline
The play tells the story of Viola, who is separated from her twin brother Sebastian. She disguises herself as a boy and goes to work for the Duke of Orsino, whom she soon falls in love with.
Orsino, however, is in love with the Countess Olivia, and sends the still-disguised Viola to court her for him. Things go wrong when Olivia falls for Viola instead, and confusion reigns when Sebastian arrives. In the ensuing flood of mistaken identity, Sebastian marries Olivia, and resolution finally occurs when Viola reveals her true identity and marries Orsino. Among those developments are a variety of entertaining shenanigans by the servants.
"It's a well-known Shakespeare comedy. Our script is cut to make it more understandable, but all the necessary Shakespeare moments are there," said Bestland.
The challenge of comedy
Ninth-grader Quinn Nusman, appearing in her first BHS production, plays the role of Olivia. She said that while the style of language may be somewhat unfamiliar to audiences, its presentation will clarify the wording.
"The way we express it, how we say things and the tone of our voice, will help the audience understand what we mean," she said.
Junior Olivia Telecky, who has performed in more than a dozen theatrical productions and immersed herself in the works of Shakespeare during the COVID time period, is embracing the unique challenge of presenting a comedy rather than a more straightforward drama or tragedy.
"I enjoy (comedies) more because there's that added element of timing, physical gags and delivering lines the right way," she said. "You can say something really funny, but if you don't say it the right way it's not going to be funny. That added layer makes comedies notoriously difficult for actors."
Behind the lights
The cast for the show consists of 18 students, but they are backed up by a robust technical crew of 14 led by sophomore stage manager Britt Drennan. Though still an underclassman, Drennan is a veteran of five previous BHS productions.
She has been interested in the technical side of theater since seeing a production of "Frog and Toad" in fifth grade.
"I saw (the crew) on stage moving stuff and being super coordinated and I was like, 'Oh, that is so cool! I want to do that!'" Drennan said. "And I've also grown up helping my dad in the garage with tools, taking stuff apart and putting it back together, so this was a way to use that experience rather than just going into shop classes, which is also fun."
While the set does not change much through the course of "Twelfth Night," Drennan said a constant challenge with each new show is to re-purpose previous set materials to keep costs in check.
"It's a fun puzzle to put together every single time," she said.
Educational endeavor
Regardless of their role, students learn and develop through their theatrical experiences.
"It's interesting watching kids struggle with iambic pentameter and some of the other fun things we get to wrestle with in terms of the language," said Bestland. "That's what high school theater is, an educational tool. We're teaching them confidence skills. We're teaching them speaking skills. We're teaching them construction skills and camaraderie and working with others. Those are all things that theater allows. There is a growth that you don't get anywhere else."
Many of the cast members for this performance are relatively new to theater, and Cox has enjoyed helping them learn concepts like strong diction and voice projection, as well as avoiding speech patterns that seem overly rehearsed.
"We don't want it to sound robotic, like Siri," she said with a laugh.
What else should the audience know before opening night?
"It's OK to laugh," said Telecky. "Sometimes people are afraid to laugh at first, but just know that if something looks ridiculous or someone is acting crazy in this show, that's on purpose."
"It is funny," Bestland said. "The kids are doing their best, and they have done a really good job with this show."