Skip to main content
November 2, 2023
Bauman to speak at BHS Veterans Day Program
All area veterans are welcome to attend on Friday, Nov. 10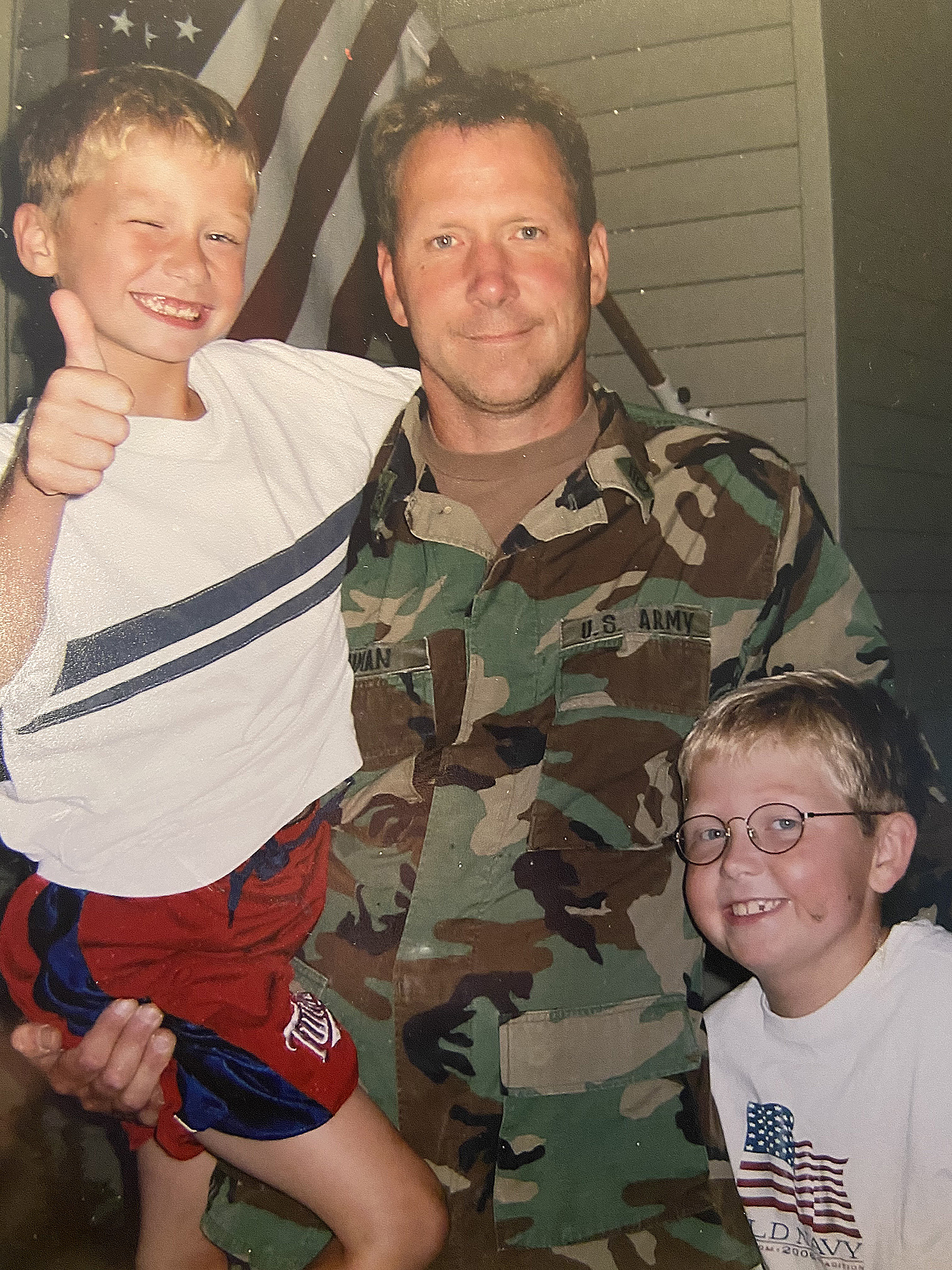 Tom Bauman never sought attention for his military service, so when he was asked to be the keynote speaker at Buffalo High School's Veterans Day Program this year his initial impulse was to decline.
Though Bauman had been the school's activities director from 2003 through his retirement in 2021, and even though he served 21 years in the Army National Guard from 1986 through 2007, finishing with the rank of sergeant first class, he felt like the honor should go to someone else.
"At first I was thinking, 'No, you've got to get someone with merit, somebody more heroic, someone who has done bigger and better things,'" Bauman said.
But then he recalled an important truth of military service that applies to the school setting as well: Every individual plays an important role in their larger group, and saying "yes" to service can lead to meaningful and important work that has an impact far beyond oneself.
"There are people who deserve to be recognized (even if they didn't have prominent roles in the military)," Bauman said. "That's part of why I'm doing this. Without everyone, the whole mission doesn't come together."
All veterans welcome
Buffalo High School holds its Veterans Day Program once every four years, and invites all area veterans and their families to attend this year's event at 2:20 p.m. on Friday, Nov. 10. Due to space constraints there is no admission for the general public, but veterans and their families are encouraged to RSVP to Anita Underberg at 763-682-8706 or aunderbe@bhmschools.org.
The program includes the address by Bauman, presentation of the colors by the Buffalo American Legion Post 270 Honor Guard, music by the BHS Concert Band, recognition of area veterans, and more.
Enlistment
Bauman grew up in Little Falls, just a short distance from Camp Ripley, and as a teenager took a job in the base's ammunition department doing general maintenance work. After high school graduation he earned a scholarship to play Division II football at St. Cloud State, but he transferred to Bemidji State University after two years to play basketball instead. Setting aside his scholarship to change sports meant that tuition costs became a factor.
"I was running out of money, and I wasn't going to ask my parents for more," Bauman said. "There were some tuition reimbursement programs through the military and I knew some really good people who encouraged me in that direction."
He enlisted in the National Guard and returned to the same ammunition supply point at Camp Ripley where he had previously worked as a civilian. There, Bauman helped supply numerous units from around the Midwest with their allocation of ammunition for live-fire exercises on Camp Ripley's vast firing ranges.
"It was everything from blasting caps and bullets to missile systems," Bauman said. "Technology kept advancing. So I got to go out on the range sometimes and see the bullets or missiles go out and hit a target three miles away. It was serious business, but it was really fun too."
Long-term commitment
Because of his role and the base's busy schedule, Bauman often worked more than the usual one weekend a month for National Guard members. In civilian life, he was a teacher in Little Falls for five years before shifting to teach in Monticello. He came to Buffalo in 2000, served as the assistant principal at Buffalo Community Middle School, then took over the activities director job at the high school in 2003.
Why did he remain in the military for 20-plus years while also working in education and raising his own family?
"In the beginning I didn't really have a lot of responsibility other than myself, so it was easy to continue," he said. "I just looked at the military like it was the next challenge. But the more I learned about what was going on, the more respect I gained for the entire operation."
Relationships that continued on year after year as acquaintances returned for annual trainings – deep connections with those who were serving long-term – influenced Bauman to continue in the service.
"That was the most enjoyable piece, learning the people," he said.
Though he attended various trainings throughout the country for short stints, Bauman was never deployed abroad. The most likely opportunity to go came late in his military career during the wars in Iraq and Afghanistan. 
"If they called my name I was going to go," he said, adding that the call never came. "I was kind of happy about that. I had a young family."
Growth through service
Bauman credited his military experience with helping him to develop as a person and as a school leader.
"The way it shaped me the most was it really helped me become disciplined," he said. "I was always pretty goal-oriented, but when I saw the attention to detail in the military, I was attracted to that. I wanted to be the best."
Though he initially questioned the purpose of formalities like marching and formations, he eventually saw the value.
"It grew into a real understanding of and appreciation for that standard," he said. "The connection is, here at the high school we always have a standard. Sometimes decisions weren't easy, but you get to the other side of a difficult decision and think, 'I'm glad I stayed with the standard that was set, because it sets the tone for future generations.'"
Looking back, Bauman realizes how much personal time he invested in his military career, but has no regrets.
"I'm just glad I said 'yes' to serve," he said. "Even though you don't always know what's on the other side of the doors that aren't open yet, I've always thought those things were opportunities, and I'm grateful for all of it because I think it has shaped me and helped me get to know a lot of good people that I probably wouldn't have otherwise."